Professional Partners Team

Forecast, LLC
Keith Epstein
Expertise includes mechanical design engineering, 3D CAD, data analysis, manufacturing, electronics prototyping, sensor (accelerometer) design and applications, and renewable energy and efficiency experience including Infiswift IoT demos.

Smart Resource Labs, LLC
AJ Rossman
Solving the 'Earth to Cloud' data problem. Expertise in adding technology to existing infrastructure including scalable submetering solutions, microgrid assessment tools, PV performance reports, kiosk displays, and data efficacy evaluation.

Ben Fowler Consulting
Benjamin Fowler
VT licensed HVAC engineer. Experience with design and operation of HVAC systems and HVAC controls. Commissioning and retrocommissioning in commercial buildings and experience with IoT companies like Infisense.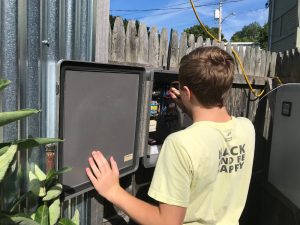 Seth Rossman
3+ years experience in building, deploying, and debugging headless IoT data-collection systems. Expertise in Python, HTML, CSS, JavaScript, C/C++ (Arduino), and LoRaWAN alongside basic electrical engineering knowledge.